5 Tips To Decrease Winter Dirt From Coming In Your Office
We have epic winters in Missoula, MT. They are beautiful and like none other. With so many fun outdoor activities, you know you have to have the right gear to play outside. If you're a seasoned Montanan, then you also know that Montana mud is like none-other too. And with winter months also being peak time for cold and flu, our professionals at Keep Missoula Clean would like to share a few tips on keeping your workplace clean during these Montana muddy months: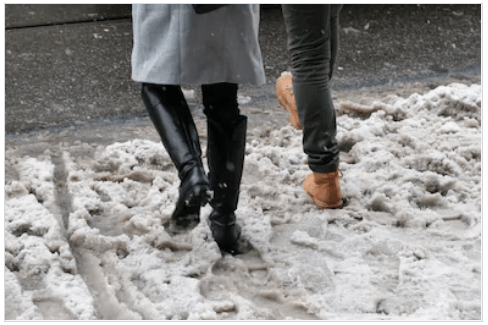 Parking Lot: Preventing dirt and mud in the workplace starts in the parking lot. You should work to keep your parking lot as free of as much snow and ice as possible by de-icing, shoveling walkways and the parking lot. It's essential to the interior of your business that your exterior is as clean as possible so dirt and debris won't get tracked in.
Protect Your Floors with Door Mats: If you've taken steps to reduce mud and dirt in the parking lot and walkways, then the less mess you'll bring into the workplace. Discarding snow and slush before you walk into the entryway can ease stress and make floors easier to clean and maintain throughout the season. Pro tip: Keep one doormat outside your entrance to stomp off snow, slush or salt before you set foot in the workplace and place the other doormat inside the reception area or entryway for a final wipe down before you remove your snow boots.
Boot Trays for Employees: Ok, you've made it through the parking lot and into the office. Now consider a boot tray or shoe rack for employees and clients to leave their winter shoes. It will save time on cleaning and wear and tear on your floors. Encourage two pairs those winter months to keep your office clean and your employees comfortable. It also doesn't hurt to have a welcoming sign to remind folks to remove their shoes.
Disinfect: If you've done the above tips, now it's time to disinfect your office. Winter is the season for colds, coughs, flu and germs that spread quickly. Help protect employees (and yourself!) by keeping your workplace properly disinfected by a cleaning system that kills some of the most harmful viruses and germs.
Use a Professional Cleaning Service: To ensure your office or commercial space is cleaned properly, consider a professional cleaning service like Keep Missoula Clean. Having professionals on a regular cleaning schedule with the right products will give you peace of mind. The cleaning professionals at Keep Missoula Clean can customize their cleaning systems to your specifications whether it be a dental office, hospital, fitness center, restaurant or commercial space.
Follow these steps to keep your office and workplace clean during the winter months. We love Montana mud, but we like it outside. For more tips from our cleaning professionals, visit our blog. For a custom quote for your office, commercial space or residential area, contact: 406-880-2890.
Keep Missoula Clean is Missoula's premier professional cleaning service for all your cleaning needs. Top-rated and reviewed. Visit www.keepmissoulaclean.com for more information, follow us on Facebook @keepmissoulaclean or call: 406-880-2890.